FIRST AID REQUALIFICATION LIVERPOOL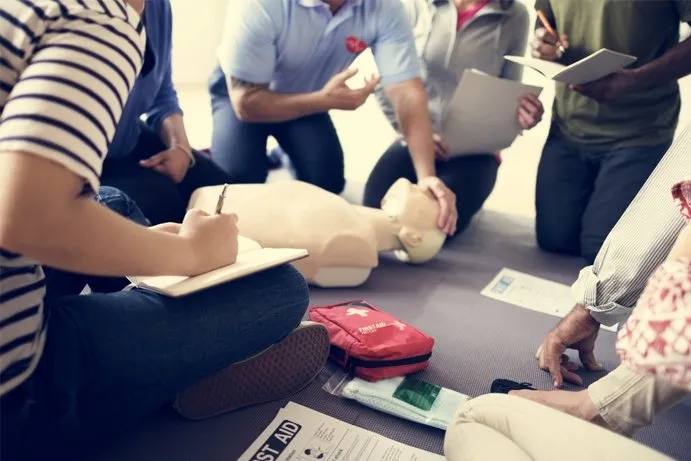 TL Training offers a comprehensive range of first aid training courses to suit your individual or business needs in Liverpool. Our highly experienced and qualified first aid instructors can also come to your workplace to deliver the course, saving you time and money while minimising disruption to your business.
We offer a wide range of first aid courses that offer training to all levels of first aiders, including complete beginners. From Emergency First Aid at Work to the extensive Three-Day First Aid at Work courses, we have a course to suit everyone.
We also offer bespoke training courses which can be tailored to your specific requirements.
Why Undertake First Aid Training in Liverpool?
First and foremost, the Health and Safety Executive (HSE) dictates that every workplace must have a sufficient number of on-site first aiders.
Depending on the size and nature of your workplace, this could be one person or several. Either way, under the Health and Safety (First Aid) Regulations 1981, employers must "provide adequate and appropriate equipment, facilities and personnel to ensure their employees receive immediate attention if they are injured or taken ill at work."
However, putting your employees through first aid training provides a whole host of benefits beyond compliance, including:
Giving your employees the skills and confidence to deal with an emergency situation
Helping to create a safer workplace
Improving morale and boosting team spirit
Reducing absenteeism
Which First Aid Training Courses Are Offered By TL Training?
We offer several first aid training courses. They include:
Emergency First Aid at Work Training Course
First Aid at Work Training Course
First Aid at Work Re-Qualification Course
First Aid at Work – Online Annual Refresher
Paediatric First Aid Course – Level 3
Mental Health First Aid Course
Each course covers different topics and is designed for different levels of first aiders. Each successful course completion will result in the achievement of a certificate valid for three years.
Why Choose TL Training for Your Liverpool First Aid Course?
There are several advantages to choosing TL Training as your first aid training provider. Firstly, we are accredited by HABC (Highfield Awarding Body for Compliance), so you can be sure you are getting the highest quality of training possible.
Secondly, our first aid courses are competitively priced, and we offer discounts for group bookings. Finally, as well as being able to deliver our courses at your workplace, we also have a dedicated training centre in Bromborough, Wirral that is easily accessible from Liverpool.
How Do I Book A First Aid Course in Liverpool?
If you would like to book a first aid course in Liverpool, or if you have any questions about our courses, please don't hesitate to contact us. You can reach us by phone on 0151 343 0588 or by email at [email protected], and we will be happy to assist you further.
Alternatively, you can check the next available dates for the course you are interested in or book a course online by clicking here.
We look forward to hearing from you soon and helping you achieve your first aid training goals.