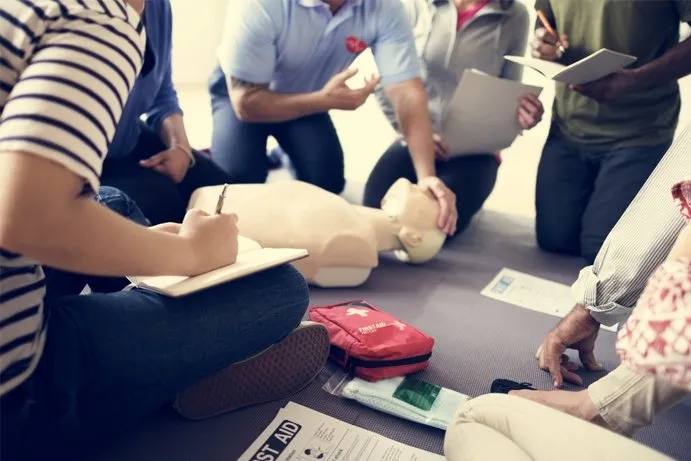 At TL Training we think that first aid is a skill that is essential to anyone, any age, working in any industry. We can never predict when someone is going to fall ill, sustain an injury, or have a life threatening accident but we can prepare ourselves to deal with these situations in the best way possible.
We offer a number of first aid courses in Wirral for individuals and businesses. We run courses for candidates of all levels. We are confident that this will be one of the most valuable training sessions you ever attend. You will learn essential skills that will allow you to preserve life, prevent conditions from worsening, and to promote recovery.
First Aid Training In Wirral
1 Day Emergency First Aid at Work Training In Wirral
It is recommended that at least 1 person for every 50 people in a low risk workplace is appointed as a first aider. Employers must also ensure that there is someone who can take on this responsibility in order to cover absence. This course prepares individuals to provide treatment in emergency situations when a person injures themselves or falls ill.
3 Day First Aid at Work Training In Wirral
This comprehensive course will provide learners with a qualification to the highest level of first aid, that meets Health and Safety Regulations 1981 standards. The course is designed to educate candidates in the best ways to treat colleagues who have been injured in the workplace. Candidates will learn how to provide CPR, how to deal with bleeding, burns, and other injuries.
2 Day First Aid at Work Requalification In Wirral
Aimed at those who wish to refresh their first aid at work qualification. First aiders must requalify every 3 years in order to meet statutory requirements. You can take this course up to 90 days prior to the expiry of your current first aid certificate, and up to 28 days after expiry date.
First Aid Annual Refresher Course In Wirral
It is recommended that first aiders attend an annual 3 hour refresher course. This includes learners who have taken both the 3 day first aid at work and the 1 day emergency first aid at work training. This course is designed to allow first aiders to keep up to date with any changes to protocols and ensure that they have refreshed their knowledge and skills.
2 Day Paediatric First Aid Course In Wirral
This course meets the Ofsted Early Years and Childcare Register requirements. The course covers everything you need to know about helping a sick or injured child, prior to the arrival of the emergency services. The course focuses on the emergency situations that arise for those looking after young children and infants, including nurseries, pre-schools, childminders, and breakfast and after school clubs. Course content includes recovery position, checking for signs of breathing, choking, CPR, bleeding, and many other topics.
Mental Health First Aid Course In Wirral
This course is an internationally recognised training course. It is designed to teach people how to spot the signs and symptoms of mental health illness and how to help those in need. Throughout this course, candidates will gain a wealth of knowledge on mental health and how to spot the signs and triggers, as well as the skills necessary to reassure and support someone in distress. The training is split up into 4 sections covering a number of topics. The course is designed to help candidates maintain a non-judgemental approach to mental health and to feel confident in stepping forward to support those suffering from mental health illness.
Get In Touch
Interested in undertaking one of our First Aid Courses in Wirral? Call us today on 0151 343 0588 to learn more. Alternatively, you can email us at [email protected] and a member of our team will get back to you as soon as possible.