ONE-DAY FIRST AID COURSE LIVERPOOL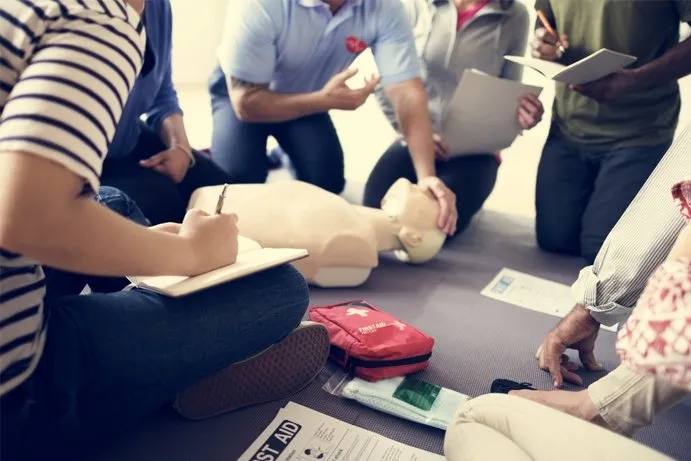 f you're looking to pursue first aid training in Liverpool and are looking for a one-day course as opposed to a full-fledged three-day intensive training programme, then you're in the right place. TL Training offers a one-day first aid course in Liverpool that covers all the basics of first aid, from cardiopulmonary resuscitation (CPR) during an emergency to deal with minor cuts and grazes.
The Emergency First Aid at Work course is designed for those who want to learn the basics of emergency first aid and become a designated emergency first-aider in the workplace. While the practical skills and knowledge taught in this course are invaluable in any workplace, the course is particularly relevant for low-risk workplaces as outlined in the Health and Safety Executive's (HSE) Health and Safety (First Aid) Regulations 1981.
What's more, these life-saving skills are universal, meaning even if you aren't pursuing this course specifically for the purposes of workplace compliance, the skills you'll learn will be useful in any number of situations – at home, at school, or even out and about.
What Does Our One-Day First Aid Course in Liverpool Cover?
This one-day first aid course covers a broad spectrum of topics, including:
The roles and responsibilities of a first-aider
Assessing an emergency situation safely
CPR and AED
Administering first aid to a choking casualty
Dealing with shock, burns, scalds, bleeds, and minor injuries
The course is delivered by one of our qualified first aid instructors, all of whom have a wealth of experience in delivering first aid training. You'll be able to ask questions and get clarification on any of the topics covered throughout the seven-hour training period.
At the end of the course, you'll be asked to take a short multiple-choice theory test and a practical demonstration assessment. Once you've successfully completed both assessments, you'll be awarded a Highfield Level 3 Award in Emergency First Aid at Work (RQF), which is valid for three years.
Why Take a One-Day First Aid at Work Training Course in Liverpool?
If you're a Liverpool-based business, putting your employees through a one-day first aid course makes perfect sense. Not only will you be ensuring that your workplace complies with HSE regulations, but you'll also be equipping your employees with the skills and confidence to deal with a range of first aid emergencies, should they occur.
The fact that the course is only one day helps minimise any disruption to your workplace, and with our training centre based in Birkenhead, it couldn't be more convenient for businesses in the Liverpool area.
Our first aid training is available to all, so if you want to take the time out of your busy schedule to learn life-saving skills for yourself or improve your career prospects by becoming a qualified emergency first-aider, our one-day first aid course in Liverpool might present an excellent opportunity.
How to Book a One-Day First Aid Course in Liverpool
If you're interested in taking our one-day first aid course in Liverpool, you can learn more by calling us on 0151 343 0588 or emailing us at [email protected]. Our advisors will be more than happy to answer any questions you might have.
Alternatively, if you're ready to book, you can do so online by choosing an appropriate date from our interactive online availability calendar