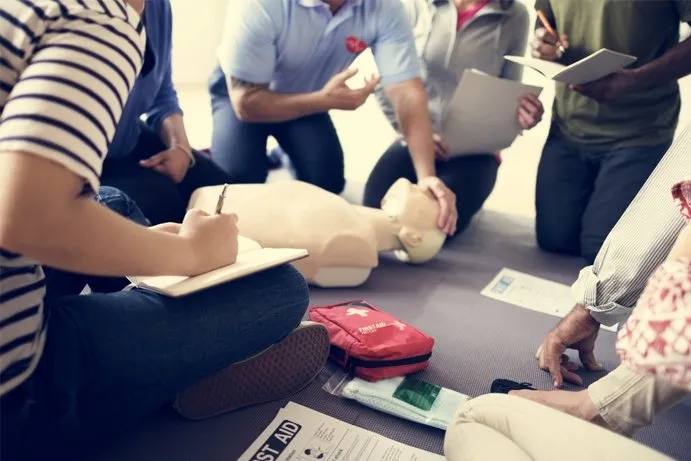 You can never predict when an emergency situation may occur, which is why so many companies and organisations invest in first aid training. Having a designated first aider on-site can make a massive difference to the outcome of both major and minor incidents.
Not only can you equip your staff members with vital, potentially life-saving knowledge, but you'll also satisfy the legal requirement to have at least one member of staff with certified first aid training per 50 employees. But does a first aid training involve exactly?
What is First Aid Training Wirral? What Does It Involve?
Generally speaking, first aid training courses cover a mixture of practical and theoretical exercises to teach participants how to administer first aid. There are a number of different first aid courses available to Wirral-based organisations such as workplace first aid, paediatric first aid, and mental health first aid.
For the most popular choice, the 1-day Emergency First Aid at Work Course, you'll be taught how to examine a casualty, use a defibrillator, familiarise yourself with basic life support and learn how to control bleeding and trauma. These provide the skills to overcome a potentially threatening situation long enough for medically-trained individuals to arrive on the scene.
You'll also learn other skills such as how to treat burns, prevent choking, and how to record and report incidents (a vital skill in work environments). Students will be assessed throughout the day, and once all demonstrations are completed to the satisfaction of course instructors, they will be awarded a certification valid for three years.
Why Are First Aid Training Courses So Important?
Well first and foremost, having qualified workplace first aiders can literally save lives. With first aiders in the workplace, you can help prevent accidents or minor injuries escalating into life-threatening emergencies.
It also satisfies a legal requirement. By putting staff members through first aid training courses and having them certified, you can satisfy the Health and Safety (First Aid) Regulations 1981. These rules stipulate that employers must "provide adequate and appropriate equipment, facilities and personnel to ensure their employees receive immediate attention if they are injured or taken ill at work."
By investing in first aid training, you can satisfy the needs of this law and the Health and Safety Executive by providing personnel who can administer immediate medical care should someone be taken ill or injured at work.

Why Choose TL Training for First Aid Courses in Wirral?
Whether you're a local school or a small business, we provide HABC-accredited first aid training to Wirral based organisations year-round. We have over six first aid courses for you to choose from, covering specialisms such as workplace first aid, paediatric first aid, and mental health first aid.
Here at TL Training, we are part of the well-established TWA Group. We have a wealth of knowledge, expertise, and understanding of the requirements for high-quality and effective training programmes that both enhance and add actual value to your business.
So if you need to bolster the number of qualified first aiders in your workplace, don't hesitate to enquire about the next available dates for our training courses.
Get In Touch
Interested in undertaking one of our First Aid Courses in Wirral? Call us today on 0151 343 0588 to learn more. Alternatively, you can email us at [email protected] and a member of our team will get back to you as soon as possible.